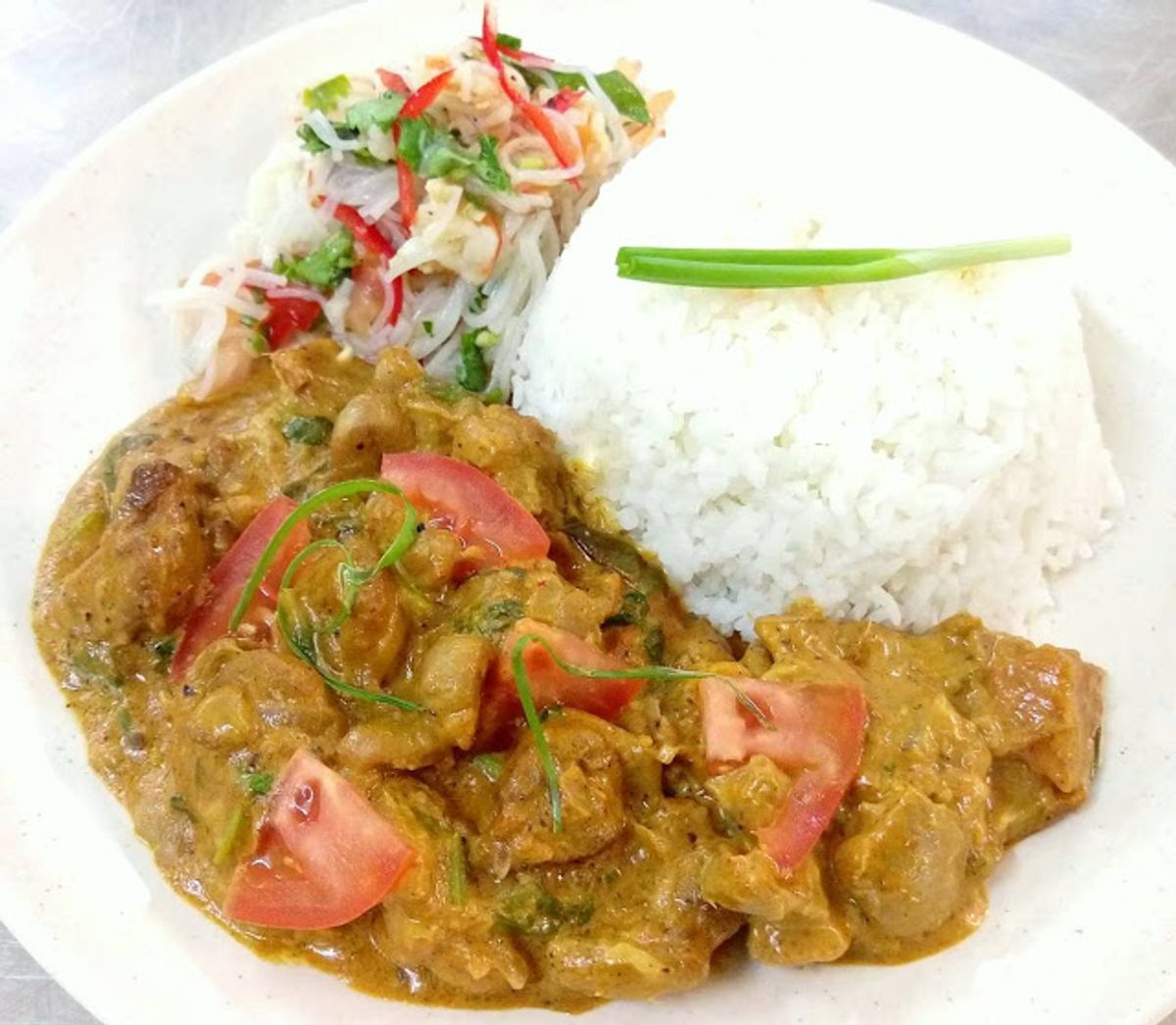 For months Michelle from TSG Cooking School has been trying to get a date for my pilot class at their school. My constantly packed schedule plus their equally busy timing and finally the landslide right outside the garden led to many delays and reschedules. I finally told Michelle that I'll be there for the pilot class on the second Wednesday of December even if I am in crutches ;P
From the proposed menu that I made for the class, we decided to go with Creamy Masala Chicken Curry, with White Rice and Asian Coleslaw, Spicy Glass Noodle Salad using Lemon Lime Pepper Salt and for dessert, Banana Caramel with Ceylonese Cinnamon Stick for the pilot class.
So here's the recipe to the chicken cooked in creamy fragrant thick curry.


INGREDIENTS
1 boneless whole chicken leg
2 tsp Garam Masala
2 tsp Hot Chick Spicy Salt
3 tbsp meat curry powder
1 tbsp garlic paste
1 tbsp ginger paste
1 big onion, sliced
2 garlic, sliced
½ cup coconut thick milk
1 tomato, sliced
a sprig of cilantro, coarsely chopped
½ cup of water
1 tbsp of oil
DIRECTIONS
Coarsely grind Hot Chick Spicy Salt. Mix with Garam Masala, curry powder and the garlic and ginger paste.
Cut chicken into bite size, marinate with mixed curry paste. Set aside.
Heat oil, add onion and garlic, cook until golden. Add marinated chicken, stir and let it cook until fragrant, add water and simmer until bubbling.
Pour in the coconut milk, stir until well mixed. Add tomato and let cook for another 2 minutes.
Remove from heat, top with cilantro before serving. Serve with white rice and Asian coleslaw.
White rice – Wash 1 cup of rice until water runs clear. Drain. Add 1 ½ cup water. Cook rice. Fluff up cooked rice before serving.

Asian Coleslaw – Grate carrot and cabbage, add sliced spring onion. Dress with vinegar and sugar mix.