Glass Noodles with Prawn, Mussel, Bunshimeji Mushroom and Pea Sprout with Soy and Shichimi Togarashi Sauce.
Soak 100g glass noodles in water for 15 minutes. To make the stock, add 2 tsp garlic paste, 2 tsp ginger paste, 1 tsp spring onion, 2 tbsp light soy sauce, 2 tbsp dark soy sauce, 1 tsp sugar and 2 tsp Athene Spice Shichimi Togarashi to 400ml water. Bring to a boil. Lower heat and gently simmer. Add 12 prawns, quartered onion and mushroom, cook for 2 minutes. Mix in strained glass noodles, stir until well mixed, cover and leave to soak the gravy over low heat. Add a cup of cooked mussels and 2 cups of pea spouts, stir a few times and remove from heat. Sprinkle with a little bit more of Shichimi Togarashi more zing.
Serves 4.
Prep time : 15 minutes.
Cooking time : 10 minutes.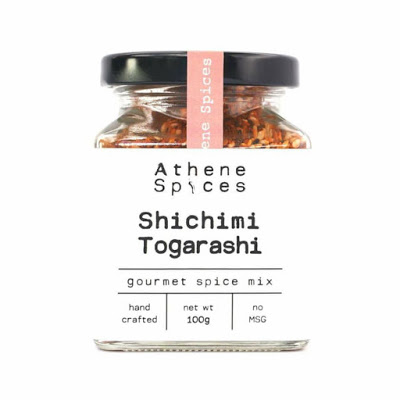 #athenespices #shichimitogarashi #glassnoodles #oilfreecooking #lazycook #quickdinner #cleaneating