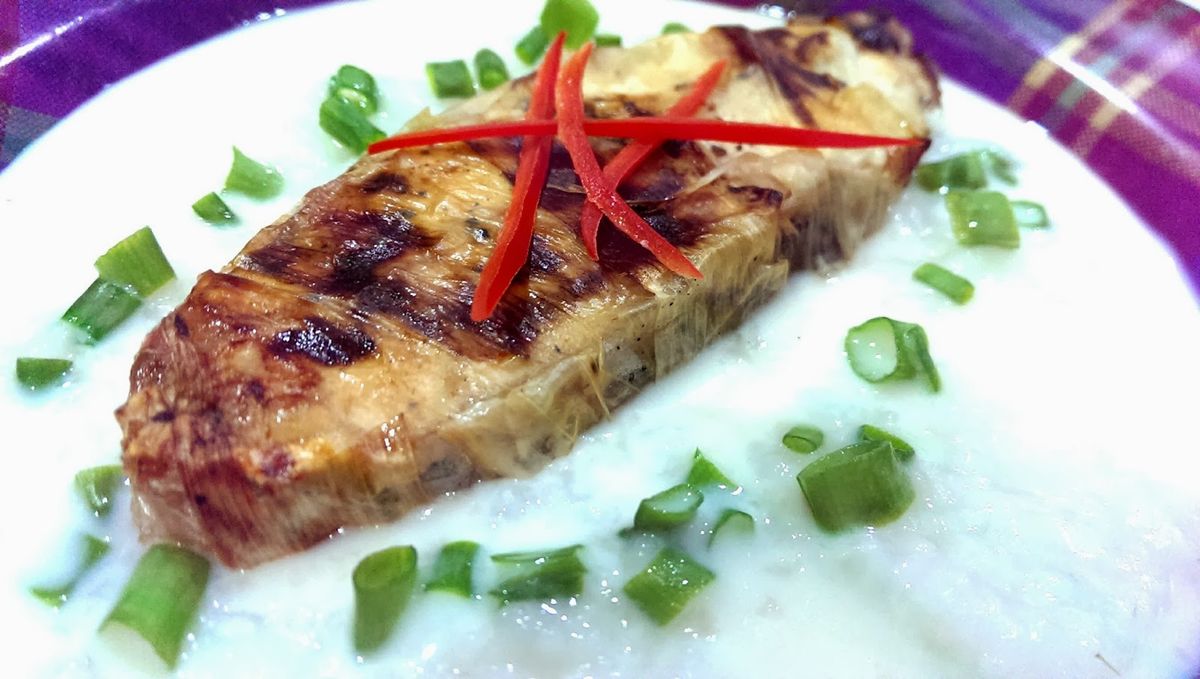 Looking at the long tape-like strands of leek peeling as I wash the leeks I just got from the wholesale grocer last evening, an idea popped in my head. What if we were to use it as wrap on fish or chicken? The light subtle onion flavor will infuse the meat and it will keep it juicy and tender, much like how 'pandan chicken' works. And we could also use it to protect whatever covered in it from overcooking or burning. Anyone who knows me will know if I have an idea, I will put it to work straight away. So this is what last night's experiment came up with.
Rub Lemon Lime Pepper Salt all over fish generously. I used sea perch cutlet, you can use just about any fish, even whole fish such as red mullet or one of those small grouper that you can easily get from the market.

Wrap the fish with the white to light green part of leek to cover it entirely, much like an Egyptian mummy *wink*. Slip-in the ends onto itself to avoid the ends from coming off.
Heat the pan on high heat. Cook the leek wrapped fish for 3 minutes, then flip over.
Cover the pan and cook a further 3 minutes, it will get a bit smoky by now, that's all good. The leek would be slightly charred too, don't worry, that's how it's supposed to be.
You will get a fragrant smoky fish with slight tangy peppery taste. Partners well with any fruity spicy salsa. I had mine with rice porridge and soy milk topped with a bit of spring onion and strips of red chilli, quite a comfort food it was for old sniffling me.
Oh, just in case you didn't notice, this is another wonderful tasting oil-free dish. You can eat great tasting food and do it healthily too.