By Marina Emmanuel - February 18, 2017 @ 2:01pm
A purveyor of spices, Faten Rafie blends all spice mixes using a mortar and pestle, writes Marina Emmanuel
FATEN Rafie may not know how to hold a tune like the Spice Girls but she most certainly knows her spices.
She is a purveyor of artisan spices. She personally hand-blends all spice mixes using a mortar and pestle. No blender was in sight at her "spice laboratory" in Relau, which is in the southwestern tip of Penang. It is here, in one of the incubators let out to small agriculture-related businesses, that the spices are mixed, ground and packed in small batches.
FROM HOBBY TO BUSINESS
It all started as a hobby for Faten, who started mixing the spices for fun. She packed these spices as gifts and gave them away to her blogger friends. They liked her spices and suggested that she turned it into a business. She liked the idea and established Athene Spices, which was what her family members used to call her, four years ago.
Her range of artisan blends and rubs are designed and created for home cooks to make easy, yet exciting dishes. They are all natural, free of artificial colours, flavours, preservatives and MSG-free.
There are no anti-caking agents and only contain spices of premium quality and natural sea salt.
Faten and her businessman husband Azizi Hassan source the spices locally (such as homegrown nutmeg and Sarawak pepper) and from overseas, and mix them into distinct products: Hot Chick Spicy Salt, Lemon Lime Pepper Salt, Mandy Spice Mix, Lebanese Za'atar, Moroccan Ras el Hanout and Hyderabad Biryani... to name a few, for retail and wholesale.
"We produce various spice mixes for Mediterranean, Middle Eastern, Asian and other cuisine and position them as premium goods which can be used both at home and in industrial kitchens," she says.
She lines up various bottles of spices on the table, carefully opens the lid, places a particular spice in her mortar and pestle and gently grinds it.
There is a table in the middle of her spice laboratory. There are several wooden and steel shelves stacked with air-tight containers. Her spices are packed in high-grade glass bottles with black tops.
There are also recipe books which serve as her sources of reference.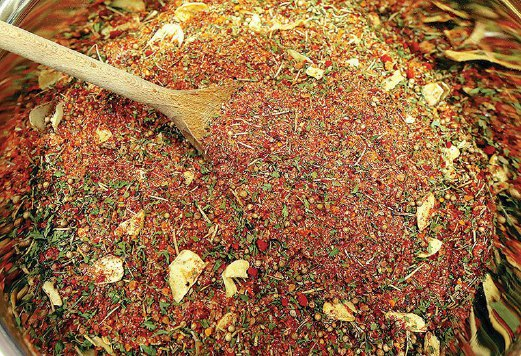 I catch a whiff of the fresh ingredients as she slowly grinds the spices. It assails my senses — the colours, the textures and the taste of the mixture of spices and salts. I place a small spoon of the mixes on my tongue and the flavours explode in my mouth. The mixture of fine garlic chips, dry lemon and lime, bay leaves, coriander, cardamom, cinnamon, fennel, cumin, marjoram and sesame seeds all come to life.
The Penang-born comes from a family of great cooks and experienced food caterers but her first attempt at cooking, frying an egg to be exact at the age of 7, turned out disastrous.
Determined even way back then, Faten refused to listen to the domestic helper, who told her that she needed to oil the pan first before breaking the egg. "But that did not stop me from experimenting in the kitchen," she reminisces.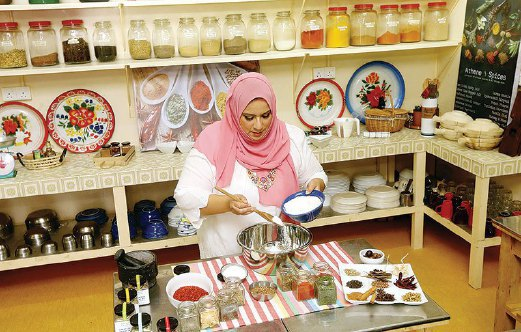 Three years later, she came up with her first recipe, which was a mixture of French beans, shrimp and shredded carrots. "The recipe remains time-tested, is a firm favourite and is served in my home even today."
RECREATIONAL ENTERTAINMENT
Today, Faten can cook up a storm for loved ones and does small catering jobs. Her savoury dishes are cooked using her hand-blended spice mixes.
"Cooking has become fashionable again and is a form of recreational entertainment even among chief executive officers and high-flying executives. Due to their travels, their tastes have become more sophisticated. And people want to eat well and sometimes like to recreate popular dishes at home.
"Our spice mixes are very versatile and remain true to the original recipes," she says, adding that all her spice mixes require no oil when cooking.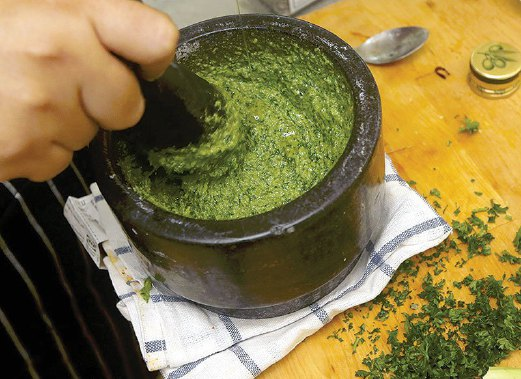 Apart from dry spices and mixes, Athene Spices also sells sauces and pastes in small quantities and upon order. They include Smoky Apple BBQ Sauce, Sea Salt Caramel Sauce, Pesto Sauce and Sundried Tomatoes in Garlic Olive Oil. Also available are premium whole spices like the Sarawak pepper, Tahitian vanilla beans, Himalayan saffron, Iberian paprika, Turkish rose petals, and other more common spices like cinnamon, cloves, coriander, cumin and fennel.
On the drawing board is a plan to sell coffee beans from small plantations all over the world, starting with the Ulee Kareng Coffee from Acheh in Indonesia.
Faten has invested RM50,000 in her business so far and her products are sold online (www.athenespices.com), as well as via agents nationwide, including the Tropical Spice Garden in Penang, Cook Kitchenware Boutique and Publika in the Klang Valley.
Upon request, she curates corporate gifts such as hampers incorporating her spices and even packs them for use in restaurants overseas, where the spices have been well-received to date.
The entire range of her spices is packed in a wooden tray and makes a pretty sight on any kitchen counter or larder.
Befitting the premium tag, Athene Spices products are targeted at those with greater purchasing power and exposed to international cuisines, and also the health conscious, who do not want oil or sodium in the food they prepare and consume.
FUTURE PLANS
Faten's love for spices and passion for sharing her recipes and their healthy properties are apparent as she shares her future plans for the business.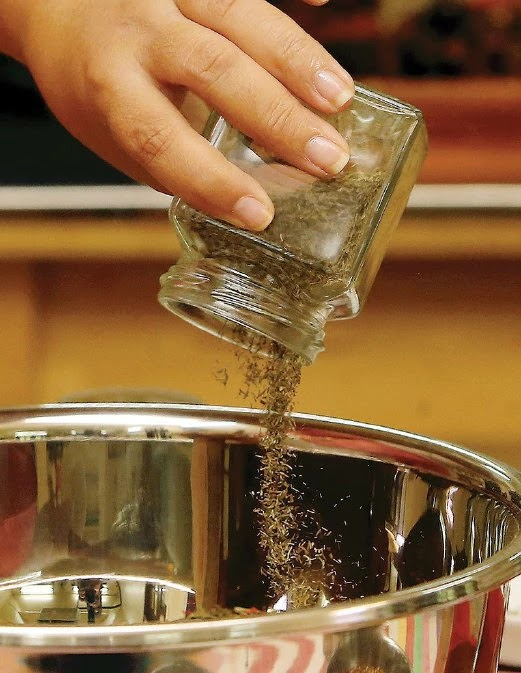 "I am planning a bricks and mortar Athene Spice Store, which will be a very intimate and personalised spice shop, where you can not only purchase spices and mixes but also enjoy a cup of tea with sandwiches, simple dishes and pastries in a tiny cafe, where you can sit and chat with friends and discuss all things to do with spices," she enthuses.
As for her aim to put Athene Spices on high-end supermarket shelves as well as in smaller specialty stores, Faten is working on obtaining the necessary certifications for food operators.