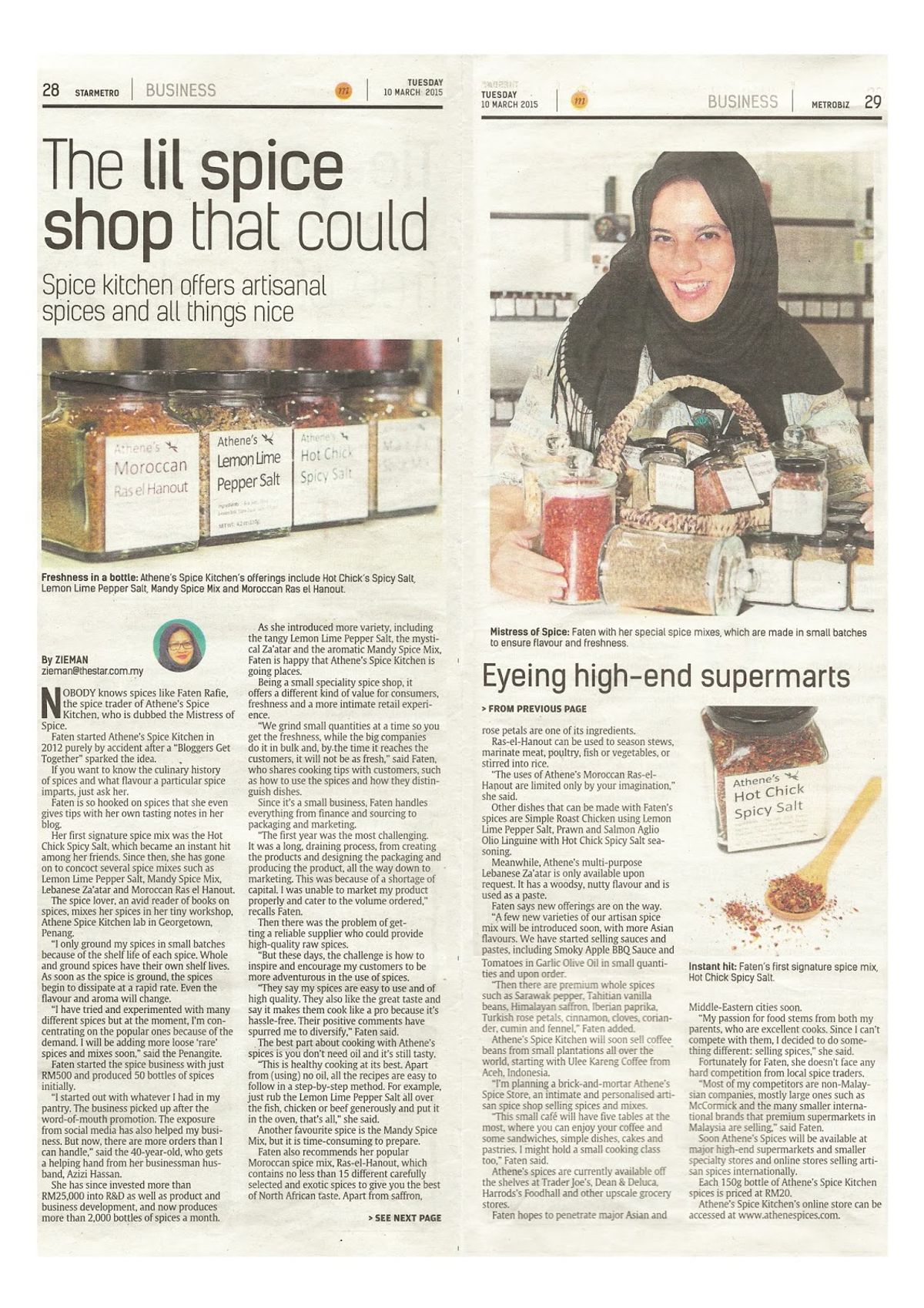 Metro Biz
Published: Tuesday March 10, 2015 MYT 12:00:00 AM
Spice kitchen offers artisanal spices and all things nice
BY ZIEMAN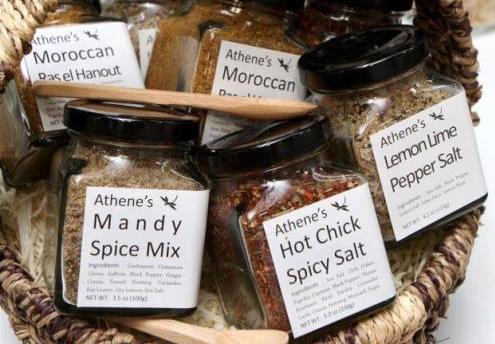 You cant get the special spice blends that Athenes Kitchen makes anywhere else. All you need to do with these spices is rub them into fish, chicken or meat and cook in the oven.
Nobody knows spices like Faten Rafie, the spice trader of Athene's Spice Kitchen, who is dubbed the Mistress of Spice.
Faten started Athene's Spice Kitchen in 2012 purely by accident after a "Bloggers Get Together" sparked the idea.
If you want to know the culinary history of spices and what flavour a particular spice imparts, just ask her.
Faten is so hooked on spices that she even gives tips with her own tasting notes in her blog.
Her first signature spice mix was the Hot Chick Spicy Salt, which became an instant hit among her friends. Since then, she has gone on to concoct several spice mixes such as Lemon Lime Pepper Salt, Mandy Spice Mix, Lebanese Za'atar and Moroccan Ras el Hanout.
The spice lover, an avid reader of books on spices, mixes her spices in her tiny workshop, Athene Spice Kitchen lab in Georgetown, Penang.
"I only ground my spices in small batches because of the shelf life of each spice. Whole and ground spices have their own shelf lives. As soon as the spice is ground, the spices begin to dissipate at a rapid rate. Even the flavour and aroma will change.
"I have tried and experimented with many different spices but at the moment, I'm concentrating on the popular ones because of the demand. I will be adding more loose 'rare' spices and mixes soon," said the Penangite.
Faten started the spice business with just RM500 and produced 50 bottles of spices initially.
"I started out with whatever I had in my pantry. The business picked up after the word-of-mouth promotion. The exposure from social media has also helped my business. But now, there are more orders than I can handle," said the 40-year-old, who gets a helping hand from her businessman husband, Azizi Hassan.
She has since invested more than RM25,000 into R&D as well as product and business development, and now produces more than 2,000 bottles of spices a month.
As she introduced more variety, including the tangy Lemon Lime Pepper Salt, the mystical Za'atar and the aromatic Mandy Spice Mix, Faten is happy that Athene's Spice Kitchen is going places.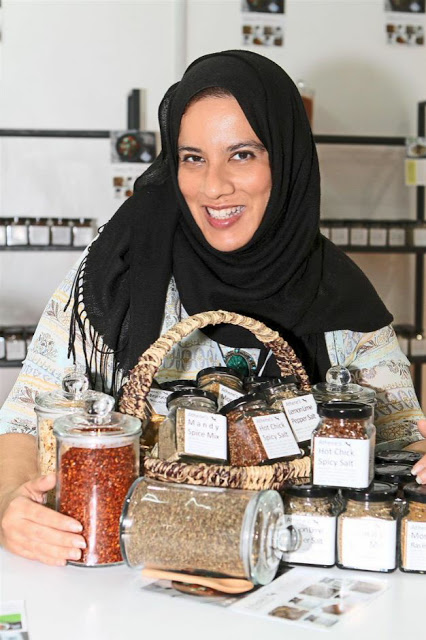 Mistress of Spice: Spice trader Faten Rafie with her special spice mixes which are made in small batches to ensure flavour and freshness.
Being a small speciality spice shop, it offers a different kind of value for consumers, freshness and a more intimate retail experience.
"We grind small quantities at a time so you get the freshness, while the big companies do it in bulk and, by the time it reaches the customers, it will not be as fresh," said Faten, who shares cooking tips with customers, such as how to use the spices and how they distinguish dishes.
Since it's a small business, Faten handles everything from finance and sourcing to packaging and marketing.
"The first year was the most challenging. It was a long, draining process, from creating the products and designing the packaging and producing the product, all the way down to marketing. This was because of a shortage of capital. I was unable to market my product properly and cater to the volume ordered," recalls Faten.
Then there was the problem of getting a reliable supplier who could provide high-quality raw spices.
"But these days, the challenge is how to inspire and encourage my customers to be more adventurous in the use of spices.
"They say my spices are easy to use and of high quality. They also like the great taste and say it makes them cook like a pro because it's hassle-free. Their positive comments have spurred me to diversify," Faten said.
The best part about cooking with Athene's spices is you don't need oil and it's still tasty.
"This is healthy cooking at its best. Apart from (using) no oil, all the recipes are easy to follow in a step-by-step method. For example, just rub the Lemon Lime Pepper Salt all over the fish, chicken or beef generously and put it in the oven, that's all," she said.
Another favourite spice is the Mandy Spice Mix, but it is time-consuming to prepare.
Faten also recommends her popular Moroccan spice mix, Ras-el-Hanout, which contains no less than 15 different carefully selected and exotic spices to give you the best of North African taste. Apart from saffron, rose petals are one of its ingredients.
Ras-el-Hanout can be used to season stews, marinate meat, poultry, fish or vegetables, or stirred into rice.
"The uses of Athene's Moroccan Ras-el-Hanout are limited only by your imagination," she said.
Other dishes that can be made with Faten's spices are Simple Roast Chicken using Lemon Lime Pepper Salt, Prawn and Salmon Aglio Olio Linguine with Hot Chick Spicy Salt seasoning.
Meanwhile, Athene's multi-purpose Lebanese Za'atar is only available upon request. It has a woodsy, nutty flavour and is used as a paste.
Faten says new offerings are on the way.
"A few new varieties of our artisan spice mix will be introduced soon, with more Asian flavours. We have started selling sauces and pastes, including Smoky Apple BBQ Sauce and Sea Salt Caramel Sauce, Pesto Sauce, Sundried Tomatoes in Garlic Olive Oil in small quantities and upon order.
"Then there are premium whole spices such as Sarawak pepper, Tahitian vanilla beans, Himalayan saffron, Iberian paprika, Turkish rose petals, cinnamon, cloves, coriander, cumin and fennel," Faten added.
Athene's Spice Kitchen will soon sell coffee beans from small plantations all over the world, starting with Ulee Kareng Coffee from Aceh, Indonesia.
"I'm planning a brick-and-mortar Athene's Spice Store, an intimate and personalised artisan spice shop selling spices and mixes.
"This small café will have five tables at the most, where you can enjoy your coffee and some sandwiches, simple dishes, cakes and pastries. I might hold a small cooking class too," Faten said.
Athene's spices to be available off the shelves at Trader Joe's, Dean & Deluca, Harrods's Foodhall and other upscale grocery stores.
Faten hopes to penetrate major Asian and Middle-Eastern cities in future.
"My passion for food stems from both my parents, who are excellent cooks. Since I can't compete with them, I decided to do something different: selling spices," she said.
Fortunately for Faten, she doesn't face any hard competition from local spice traders.
"Most of my competitors are non-Malaysian companies, mostly large ones such as McCormick and the many smaller international brands that premium supermarkets in Malaysia are selling," said Faten.
Soon Athene's Spices will be available at major high-end supermarkets and smaller specialty stores and online stores selling artisan spices internationally.
Each 150g bottle of Athene's Spice Kitchen spices is priced at RM20.
Athene's Spice Kitchen's online store can be accessed at www.athenespices.com.
http://www.thestar.com.my/Metro/Metro-Biz/2015/03/10/The-lil-spice-shop-that-could-Spice-kitchen-offers-artisanal-spices-and-all-things-nice/