I have been meaning to have a go at making spanakopita for ages. Spanakopita is a greek-style pie made with spinach and feta or cottage cheese. It's the nutmeg powder that gives it the distinctive taste that makes it so addictive. Spanakopita are usually vegetarian, eaten as snack. However, I have added fish to the filling to make a whole meal out of it, you can change this to mince lamb or chicken, sliced chicken breast of totally omit it.
I know there's many out there that don't believe that you can cook great tasting meals without a drop of additional oil, well I am here to prove you wrong. I have made it my mission to cook as many dish without a drop of additional oil or fat as possible, of course without compromising on taste, otherwise what's the point? All you need is a good non-stick pan, which I know almost everyone has in their kitchen, and a bit of imagination plus the willingness to be open to the concept of oil-free cooking.
This recipe has been tweaked to make it a healthy alternative. And what do you know, it's still very delicious, most won't be able to tell the difference.
As for those that can't make themselves cook without oil, you can saute' the onion and fish cubes in a bit of oil and brush on melted butter or olive oil in between the layers and on top of the spring roll pastries.
Ingredients :

1 cup cottage cheese
1 bunch of spinach, remove bigger stems
300g white fish fillet,cubed (about 2 pieces)
2 onions, diced
2 eggs, lightly beaten
a handful of pine nut
2 tbsp spring onion, sliced finely
2 tbsp Hot Chick Spicy Salt, ground
1 tbsp black pepper, coarsely ground
1 tsp nutmeg powder

6 sheets of spring roll skin / filo pastry

Utensils :

non-stick pan
baking dish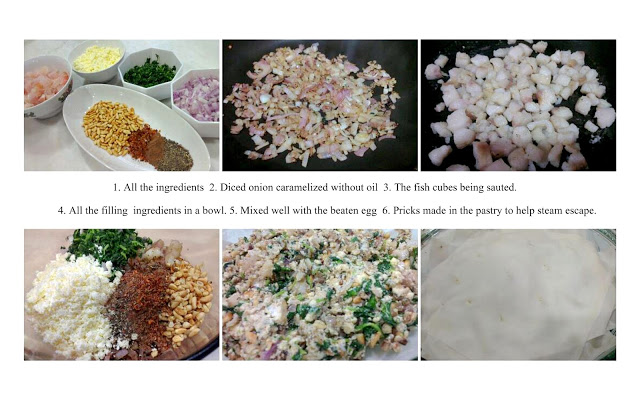 Wash spinach to remove dirt and grits, remove bigger and tougher stalks. Blanch in boiling hot water for 2 minutes then rinse under cold running water. Squeeze out as much liquid out of the spinach. Chop the spinach and set aside.

Toast the pine nuts in the non-stick pan over medium-low heat, swirling the pine nuts in the skillet until they turn golden and have a nutty fragrance, lightly crush the nuts to just break it up, set aside.

Using the same non-stick pan, add the diced onion and dry fry on medium-low heat until it caramelized, stirring frequently as not to let it burn. Set aside

Heat up the non-stick pan to medium-high, add the fish cubes in a single layer so that it will singe the fish upon contact and start browning quickly, work in batches if needed. Turn the fish cubes making sure all the sides are caramelized.

Add cottage cheese, chopped spinach, caramelized onion, spring onion, spices and pine nut to the fish. Pour in the beaten egg. Mix well.

Preheat oven to 170C.

Arrange three of the spring roll skins at the bottom of the baking dish, one on top of the other, in a perpendicular manner. Top with the filling mix, don't press to compress it, let it remain some what loose and piled up. Cover with the remaining pastry. Prick some holes on it to let the hot steam escape and not turn the dish soggy.

Bake for 20 minutes, until the top is golden brown and crispy. Remove from the oven, let it cool for about 5 minutes before cutting and serving.

Serve with a side of mixed greens and cherry tomatoes, or anything that catches your fancy.