Tuscan fries, think of thin strips of hand cut French fries, that you start off by placing the fries into cold oil and then just leave it as they slowly cook until golden and crispy. Imagine the taste of garlic cloves and fresh herbs thrown into the hot oil towards the end of the cooking time to infuse more flavors into the fries. And then to make a good thing perfect, seasoned with your favorite Athene Spices Gourmet Salt, bet you'll be snacking on them even before the dish even leaves the kitchen!

Here's the recipe, hope you'll enjoy making them.
.
Tuscan Fries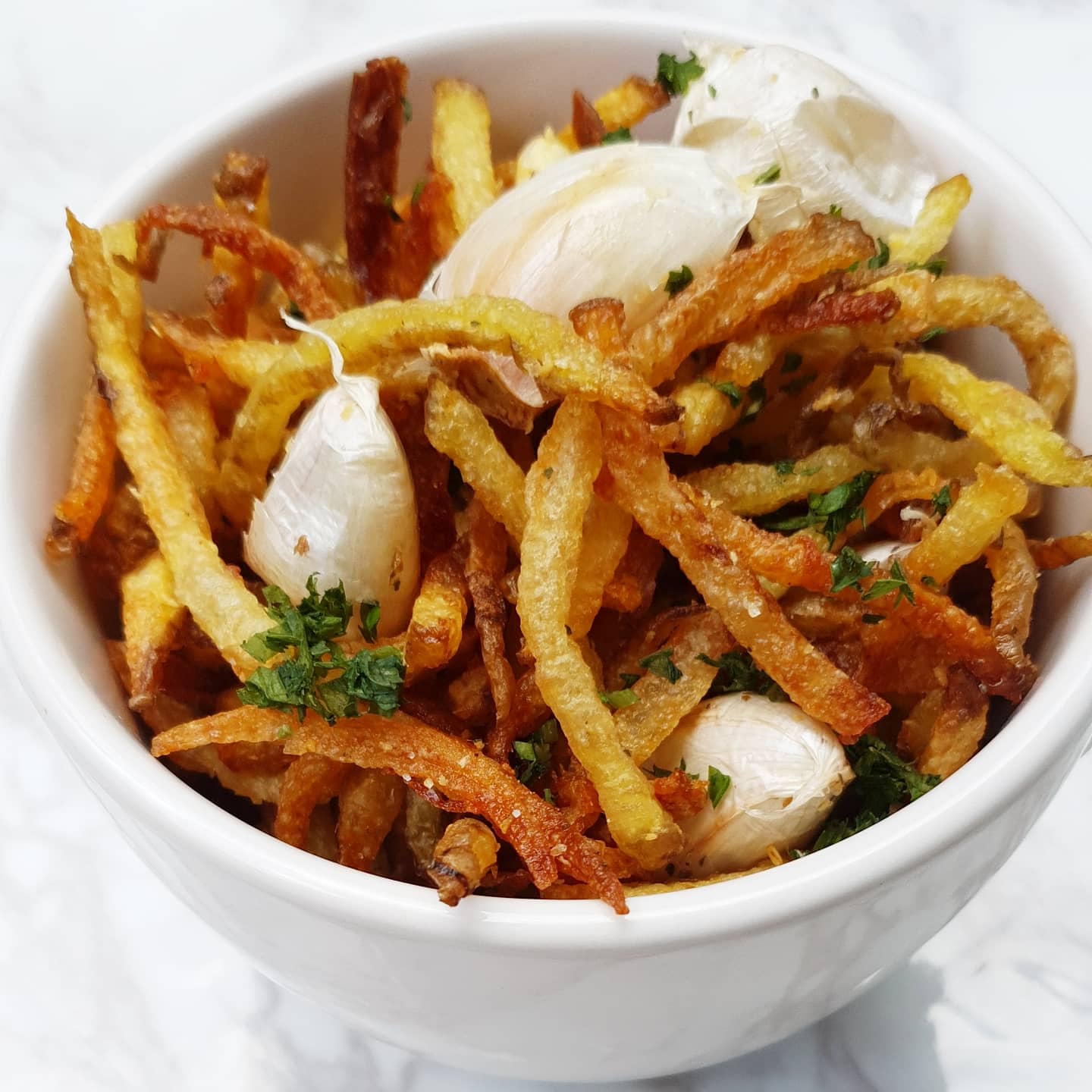 Ingredients

- 1kg waxy potato
- 1 liter palm or vegetable oil
- 2 head garlic cloves, separated but not crushed
- Athene Spices Gourmet Salt of your choice
- a handful of fresh herbs such as sage, thyme, rosemary or curry leaves
- Parsley, finely chopped for garnish

Method

1. Wash and scrub potatoes, I prefer to leave the skin on. Slice potatoes into in 1cm slices, then cut the slices into 1cm chip fingers. Use a mandoline if you have one, finer strips makes better Tuscan fries!

2. Put the oil into a wide, heavy-based pan, and add the freshly cut potatoes (remember, do not heat the oil first, this is the secret to great Tuscan fries!) Then put the pan over a high heat and bring to a boil, which should take about five minutes.

3. Continue to cook the fries, without stirring (secret number 2), for another 10 minutes. The pan will be bubbling vigorously. Reduce the heat a little if the oil gets too hot or bubbles too hard.

4. Very carefully give the chips a gentle stir, gently scrapping any that's stuck from the bottom or sides of the pan.

5. Add the unpeeled cloves of garlic to the pan, stir gently again, and cook for another 5-10 minutes. Keep an eye on the pan, the chips and garlic can get burnt quickly.

6. When the fries are golden, toss in the herbs, then after a minute or so scoop everything out – using a slotted scoop, onto a tray lined with a double thickness of kitchen roll.

7. Once any excess oil has been absorbed, tip the fries off the kitchen paper onto a plate and sprinkle with the Athene Spices Gourmet Salt of your choice to taste, garnish with parsley and serve immediately.
.
Note : Oh, I love pairing the gourmet salt used to season the Tuscan fries with the fresh herbs that I add to the hot oil, Lemon Lime Pepper Salt with sage, Hot Chick Spicy Salt with thyme and rosemary and and my personal current favorite, Garlic Salt with cilantro, curry leaves and smashed bird's eye chillies. Let's hear some of your personal favorites!
.

#tuscanfries #athenespices #artisanspices #gourmetspicesmalaysia #gourmetsalt #hotchickspicysalt #lemonlimepeppersalt #garlicsalt #potato #instagram #athenecooks #fries #lunchtime #nigellalawson #buzzfeast #comfortfood #makanmakan #malaysia #familyfavorite #eatwell #foodie #foodgram #foodporn #thefeedfeed