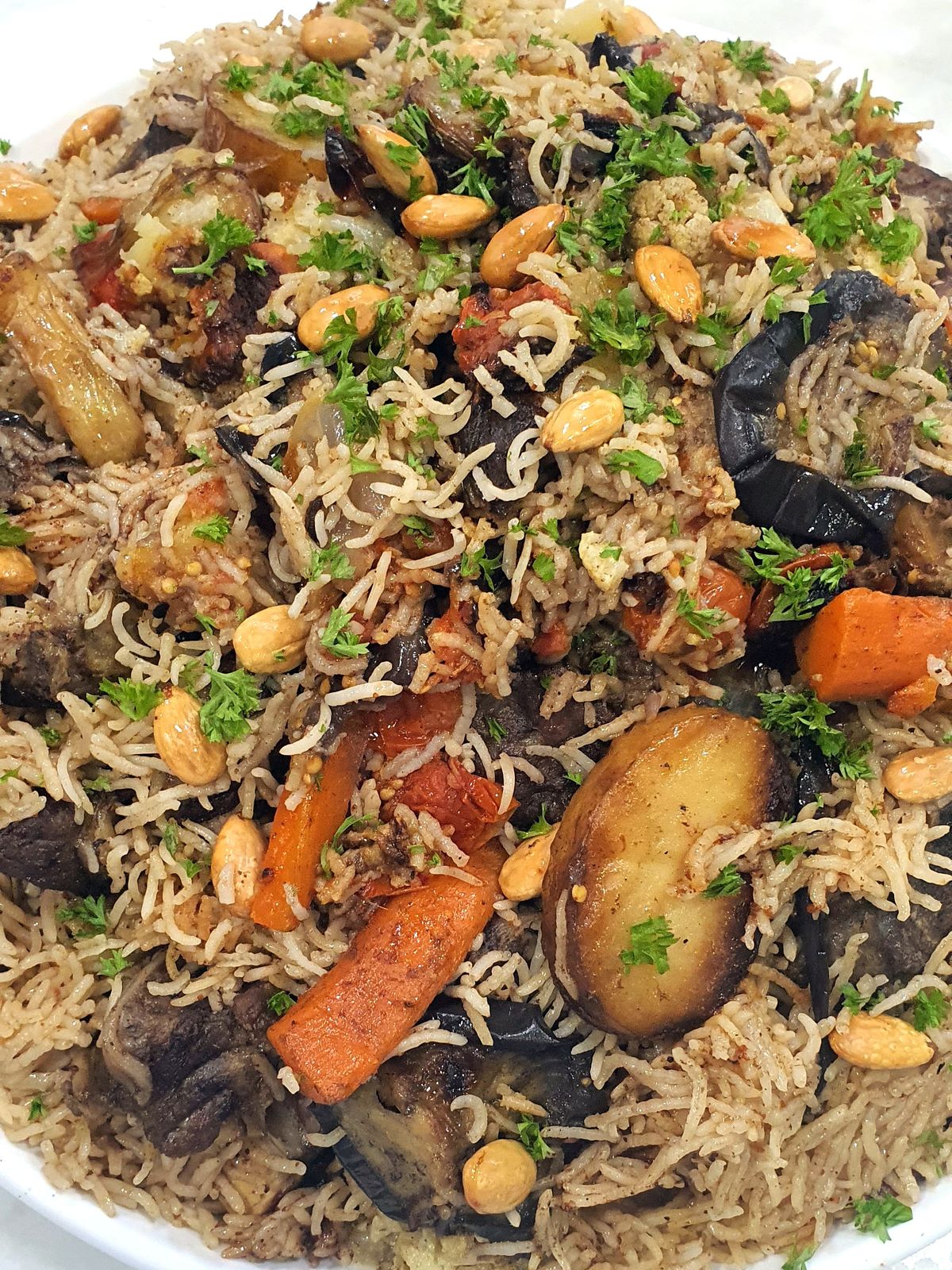 Maqloubeh is a popular Palestinian spiced rice dish that is often cooked with cauliflower, eggplant, potatoes, and meat. In Arabic, Maqloubeh (Maqluba, Makloubeh or Maqlooba) means 'upside down', the dish is served by flipping the whole pot onto a large plate before serving, resulting in a stunning 'rice cake' with layers of vegetables, meat and spiced rice that is a treat for the eyes as well as the belly.
I've eaten quite a few meals of Maqloubeh, from kitchens of cooking maestros in the family as well as popular restaurants; and I've cooked more than a few pots using recipes passed down by family members, friends and those by popular chefs that I found on the internet. The recipe I use now is based on an old family recipe that has been tweaked to make it easier to make and more flavorful with all my favourite vegetables.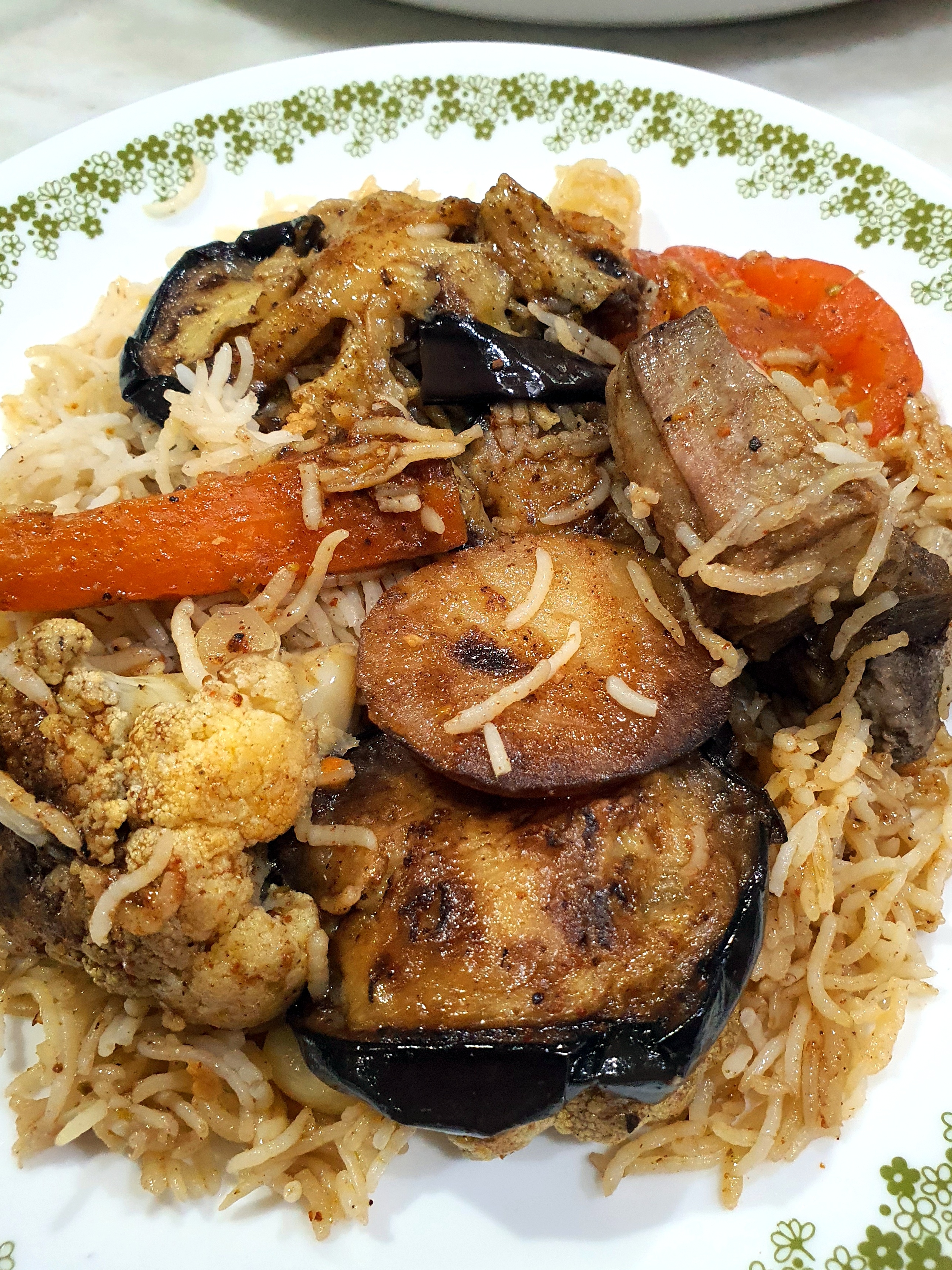 This recipe may look slightly complicated at first glance, but with proper planning, it is worth making as you will get much pleasure in creating, presenting and indulging in this delicious dish. It's a fantastic celebratory dish for your loved ones, soon you'll figure out how easy it is to make and will be making it again and again even on regular day.
Palestinian Maqloubeh
this recipe yields 10 generous adult servings
Ingredients
5 cup basmati rice
2 tomatoes, sliced thickly
For the meat & stock
(A)
1kg of lamb cubes
½ tbsp crushed black pepper
½ tbsp Palestinian Baharat
1 tbsp sea salt
1 tbsp vegetable oil
(B) – whole spices
2 cinnamon sticks
6 pods green cardamom
4 whole cloves
3 bay leaves
1 tbsp garlic paste
(C) – stock seasoning
1 tbsp Athene Spices Palestinian Baharat
1 tbsp crushed black pepper
1 tbsp cumin
2 tsp turmeric
4 tbsp tomato paste
sea salt to taste
Vegetables
3 eggplants, 500g
2 potatoes
1 small head of cauliflower
1 carrot or 1 cup of baby carrots
1 large onion
1cups vegetable oil
Garnish
½ cup toasted nuts (I used almond fried in the leftover oil from frying the vegetables)
½ cup chopped parsley
Instructions
1. Begin by gently washing the rice until the water runs clear. Soak for 30 minutes then drain it and set aside.
2. Rub lamb cubes with Baharat, black pepper and sea salt, marinate for 30 minutes. Heat some oil in a fry pan, sear marinated lamb over medium high heat in batches until it has golden crust all over, make sure not to crowd to pan as we don't want the lamb to sweat, there's a lot of flavor in the caramelized crust.
3. Place lamb in a pot, add all the whole spices – cinnamon, cardamom, cloves, bay leaves plus garlic paste, top with enough water to cover the lamb. Bring to a boil, then simmer covered on medium heat for 45 minutes until the lamb is tender. I usually use a pressure cooker, approx. 20 minutes.
4. While waiting for the lamb to cook, you can prepare the vegetables. Wash, then peel alternating parts of the eggplant skin, creating stripes of skin and flesh on the eggplant. Cut into thick slices, about half an inch thick. Peel the potatoes, and cut into roughly half inch thick circles. Peel carrots and cut diagonally into half inch slices, if using baby carrots, leave them whole. Cut cauliflower into large florets. Slice onion thickly.
5. Heat oil, fry all the vegetables till golden brown in batches (again, we want it to caramelized and not stewed, so don't crowd the pan), beginning with onion, then carrot, potato, cauliflower and ending with the eggplant. Drain using kitchen towel, set aside.
6. Once the lamb in the stock is cooked, remove from the stock and set aside. Skim off most of the oil.
7. To the hot stock, add stock seasoning ingredients, mix well to combine and add additional water to reach the 11 cups required. Easiest way to do this is by using a measuring cup to measure the total amount of stock then top it up with water until reaching about 11 cups. Season the stock with salt, it has to be as salty as the sea water so that the rice dish will be amply seasoned. Set aside for later.
8. To layer the maqloubeh, start by brushing the whole pot generously with oil, use a well-seasoned /non-stick pot with straight sides for best results.
9. Place the tomato slices first, followed by eggplant, potato, meat, carrot, onions, then top with the rice, use a wooden spoon to gently pat the rice to pack down and smooth out the surface.
10. Next, gently add the stock to the rice pot using ladle as not to mess up the packed rice, make sure the stock is just slightly above the rice level, any extra stock you can set aside for later use.
11. Place the pot on medium high heat and simmer till you see the edges bubbling, about 5 minutes or so.
12. Once it's bubbling, cover the pot and turn down the heat to low. Ensure the pot is well sealed, I do this by placing a rolled-up wet towel on the pot rim, put on the lid then place something heavy on top – if you are using cast iron pot, you are good as the heavy lid will seal all the steam in. Cook for 50 minutes.
13. After 50 minutes, turn heat off and allow the maqloubeh to rest for 10 minutes before flipping it over.
14. Take a large plate or serving platter, place it over the pot. Holding the plate tightly against the pot, flip the pot over and give it a gentle shake. Then slowly, ease the pot off the plate - do this over a clean table, just in case of accident and it will be good to have someone nearby to help if the pot is big.
If you packed the rice properly, it shouldn't collapse, but if it does, it's alright, when garnished with fried nuts and a sprinkling of parsley, it will still look great.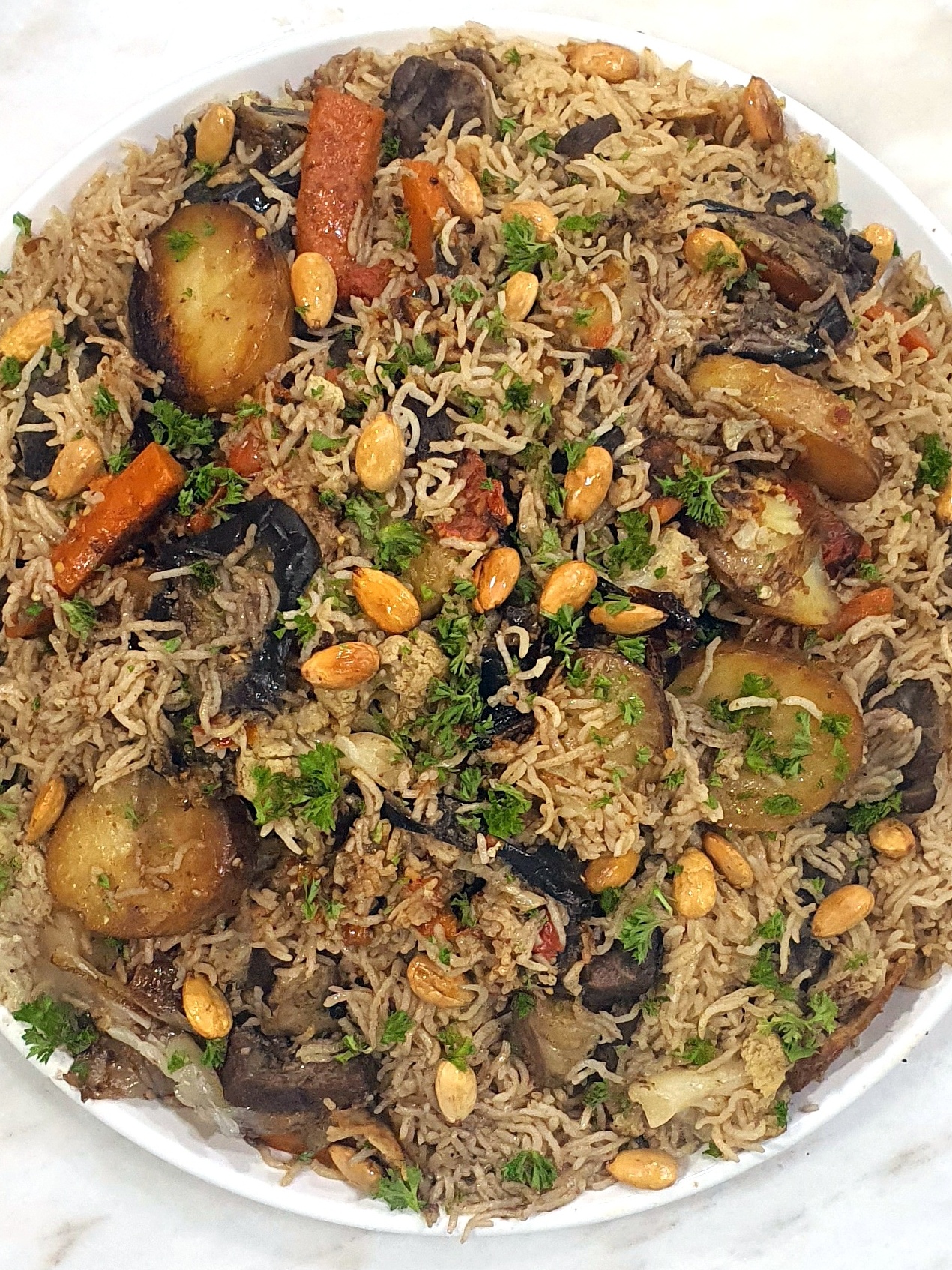 15. Serve with garlic yogurt sauce and a light salad. If you want some added spiciness, you can have it with salata harrah sauce.
Note
And this recipe offers an unlimited variation option;
for a healthier & low fat maqloubeh, season the vegetables with salt, pepper and brush them with a little bit of oil and oven roast them till golden brown.
it's very easy to make a vegetarian maqloubeh, just leave out the meat and use vegetable stock. Increase the amounts of vegetables if you like, it will not impact the rice and liquid ratio, so leave those the same
while it's best made using basmati rice, you can use other types of rice including short grain rice or even other grains like couscous, quinoa or wheat.
use any type of meat you like; mince meat and chicken make delicious and fast-to-cook maqloubeh.
create multilayers of the rice, meat and vegetables by repeating the layers.
Tips
if the rice is still uncooked when you open the lid, simply splash with ½ cup of hot water then close the lid and continue to cook on low heat for a further 10 minutes. The steam will help cook the rice. Most often this happens due to using tall pot as the steam didn't rise up to cook the top of the rice properly leaving the it slightly undercooked. Don't worry too much about this, as the rest of the rice should be perfectly cooked.
If the dish turns out underseasoned, add a bit of salt to some hot water (1 cup max), dissolve it, and then drizzle it on top of the maqloubeh. Cover and allow it to steam a further 10 minutes.